Drunk Music Reviews has always been a platform to support local music. When this whole thing first started in 2011, it was a way to attract attention to the hundreds of awesome local shows in the city in a way that wouldn't get stale or trite. And even if the bands we saw were awful…well, at least we were drunk.
Since our first Drunk Music Review in 2011, we've reviewed and sketched dozens of local bands, supported a handful of regional music festivals, and even somehow convinced Bunbury and MPMF that we're "legit journalists" so that we could review some rad national acts (Dan Deacon, Weezer, Grizzly Bear, and Dinosaur Jr., to name a few).
We're stoked to report that next week we're heading to Austin for our first DMR: SXSW. The plan of attack: show some love to our Cincinnati bands (The Harlequins, The Ridges, The Seedy Seeds, Why?, The Pinstripes) and sketch/review some national acts. And also eat all the tacos.
Of course, with every new and exciting endeavor comes the sad slap of reality: Holy shit, this is going to cost a lot of money.
So pardon our public and shameless display of begging, but we'd like your help. It's going to take about $1,000 to cover our expenses at SXSW, so to try to offset the costs, we're selling t-shirts and prints of our illustrations from past reviews. You can purchase everything through our online store: http://drunkmusicreviews.bigcartel.com/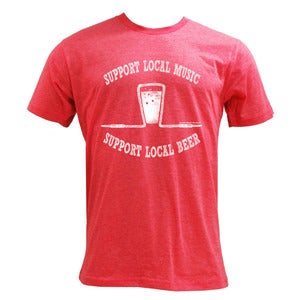 We're also throwing a SXSW fundraiser party this Saturday the 9th at Quan Hapa in Over-the-Rhine. Here's the deal:
We're curating a Spotify playlist highlighting our favorite local bands
John will be sketching free caricatures at the bar
If you purchase a shirt from us that night, you get a free shot from Quan Hapa.
Thanks for your support! We adore you.
Posted by Caitlin Behle @ 6 March 2013
Tags : drunk music reviews , sxsw
Sorry, comments are closed.