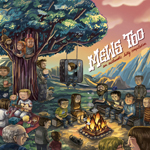 The label that lauched mr indie rock 2005 Sufjan Stevens is releasing a compliation this year. And what I have for you on this fine Saturday is a tracklisting and a couple bonus mp3s for the diligent weekend blog surfer you must be.
"Mews Too" continues the musical conversation begun in 2001 by Asthmatic Kitty's first compilation "To Spirit Back the Mews" by including many of the contributors to that album, and by inviting new friends as well. The twenty-four tracks include contributions from Asthmatic Kitty's current roster–Sufjan Stevens, Half-handed Cloud, Liz Janes, Castanets, and Bunky–as well as indie luminaries Danielson, Royal City, Denison Witmer, Jim Guthrie, and Steven Lambke of the Constantines. Like its predecessor, "Mews Too" weaves various genres and eccentric individual visions to form a testimonial to the uniqueness of Asthmatic Kitty's musical community.
Enjoy.
01. Denison Witmer – Little Flowers
02. Bogs Visionary Orchestra – Everybody's Broken
03. Half-Handed Cloud – Bees Are Trying To Build
Their Nest In You
04. My Brightest Diamond – Riding Horses
05. Chris Schlarb – Twilight & Ghost Stories
(Excerpt)
06. Liz Janes – Big Texas
07. Bunky – Monkey Song
08. Maxel Toft – Quick Fix
09. Jim Guthrie – Evil Thoughts
10. Castanets – First Light's Freeze
11. Danielson – My Lion Sleeps Tonight
12. Matthew Haseltine – One's Head On The Bar
13. Sam Rosen – The Glow
14. Welcome Wagon – Sold! To The Nice Rich Man
15. Jason Brouwer – Up On Top Of The Hill
16. Lifestyles & Vistas – Go To The Crossroads
17. Roman Bolks – Scars & Options
18. Sufjan Stevens – Opie's Funeral Song
19. Shannon Stephens – If You Want Me
20. Royal City – Burning Torch
21. Men Of Old – Which Mobile Weapons
22. Jai Agnish – The Argument
23. Steven Lambke – Sophia
24. Elin Smith – Naa Lukker Seg Mitt Oye
Posted by Joe Long @ 28 January 2006
Sorry, comments are closed.